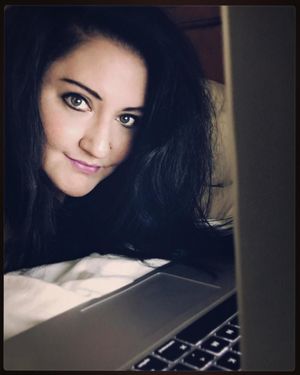 Here I am...
Getting some work done in the hotel room before the first night of my 2017 Tug Of War summer tour. Tonight is the night. The culmination of months and months and hours and hours of non-stop work and dedication to booking nearly 50 summer shows. Beginning tonight I get to enjoy the fruits of my labor--the results of working at my computer until 2AM, waking up at 7AM to start again, and spending all day, everyday on one of my many electronic devices, hustling and emailing and calling and texting and staring at maps and routing and planning shows and sometimes wanting to cry from discouragement and scream with frustration.  
This is not easy work, and while I'm in the thick of it I have to forget about balance, forget about songwriting, forget about being an artist, and forget about having a social life. Making stuff happen becomes my full-time job and there's no time to be wasted. Doing all of this is time consuming and often incredibly draining, but it's gratifying and exciting at the same time.  
It's something I do not only out of necessity because I have no one else to do it for me, but because I long to travel and perform. This is my passion, and to be able to create the opportunity for myself to get out there and perform in amazing places is an incredible feeling. Every tour I do is that much more fulfilling knowing that I made it happen for MYSELF and by my own design.  
Right now I'm out promoting my 7th album, and what I truly believe is my best album, Tug Of War, which officially comes out this Friday 6/2 on Blue Élan Records, a label I'm privileged to be a part of. The album is about that perpetual fight between good and bad, one I've experienced a lot of in recent years. Through it all I've learned I'm a fighter, and I'm a survivor. I fight for happiness, I fight for what I want, I fight to get up when I fall down, I fight for my career, and I fight to keep going in a business that often insists on fighting me back. It's a struggle and it's battle, but this album is my victory and this tour is proof that I'm surviving.  
It's truly a Tug Of War.  
So tonight it all begins at a venue with great fans that I always enjoy returning to -- Tip Top Deluxe Bar & Grill in Grand Rapids, Michigan.  
All dates/tix: 
http//GinaSicilia.com/Schedule 
Pre-order Tug Of War:  
Blue Élan Store: http://www.blueelan.com/gina-sicilia-store 
Amazon: http://amzn.to/2pHYxU7 
iTunes: https://itun.es/us/MD3Nib 
See you on the road everyone, 
xo 
Gina